Walking Tours
Walking tours depart from 105 Sabine Street, 77007, outside the visitor center at The Water Works.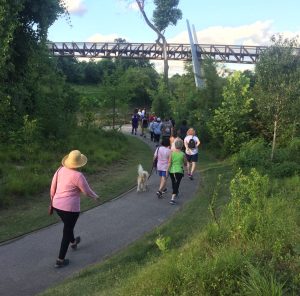 Wellness Walks
Join Buffalo Bayou Partnership on a Wellness Walk led by Laura Conely, founder of Urban Paths Wellness Coaching. Anyone and everyone is invited to walk through the paths of Buffalo Bayou Park while discussing topics including mental and physical health as well as the benefits of being exposed to nature.
Walks depart at 9 am and cover 3 miles in 1.5 hours.
Select a date below to register:
♦
Ecology Walks
Every third Saturday, enjoy a free walking tour of Buffalo Bayou Park led by Texas Master Naturalists highlighting the landscape and ecology of 19th century Texas that created Houston, as well as the importance of prairies in rebuilding this astonishing and all but vanished ecosystem.
Walks depart at 10:30 am and cover 1-2 miles in 1.5 hours.
Select a date below to register: